The Best of Queensland Honeymoon Destinations
You'll feel a million miles away at secluded Bedarra Island near Cairns. Bedarra Island's seclusion, luxury accommodation, year round warmth and unsurpassed beauty is what makes it one of the best honeymoon destinations in Australia.
Exclusively Yours
East Bedarra Island Retreat is one of the most secluded Great Barrier Reef honeymoon destinations in Queensland offering a more private alternative to the Whitsundays honeymoon options to the south.
The beach villa is all yours during your honeymoon and it is right on the inviting waters of the Great Barrier Reef between two secluded palm-fringed coves. You'll feel like castaways in your own private paradise where the only footprints in the sand will be yours. So don't be shy – toss off those shoes (and clothes if you're feeling cheeky) because you're unlikely to see another soul until you return to civilization.
Honeymoon Suite with Private Pool
Your heavenly king-sized bed will have a rose petal greeting upon arrival. In the morning you will awake to magnificent views of the Coral Sea and its islands. Just steps away is your private pool – a tidal rock pool that replenishes with saltwater with every tide. The water is a comfortable temperature for swimming year round. Colourful reef fish and sea turtles are your only neighbours. At night, cocktail in hand, you can relax in the pool beneath a starry sky or enjoy your 3D moonlight cinema.
The Villa
The villa embodies barefoot luxury with marble finishes, an indoor-outdoor flow and sea views from every room. The expansive, partly-sheltered deck includes a gas BBQ, loveseat, dining area, sculptures and deck chairs, and sits right over the Great Barrier Reef. Private concierge is available 24/7.
We provide you with kayaks, snorkeling gear and fishing equipment. Snorkel with the sea turtles right from your deck. Laze on the uninhabited white sandy coves that flank your villa. As you close your eyes and relax to the whisper of coconut palms and the gentle ebb and flow of the sea, you will feel yourselves unwind to island time. After the stress of organizing the wedding, you deserve this.
Take a bottle of champagne to one of the stunning look-out points dotted across Bedarra Island and enjoy a glass as the setting sun paints the sky with colour. Far from any city lights, the night sky is ablaze with stars. Bedarra Island is the perfect place to start your married life together and celebrate your love.
Check our Bedarra Island rates and elopement packages.
Discover the romance and privacy of Bedarra Island before it becomes an Australia honeymoon hotspot.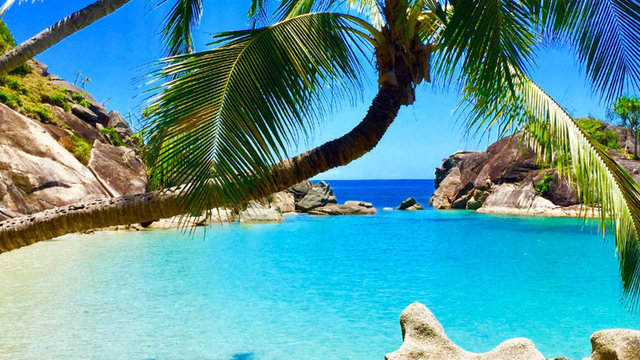 "After two weeks here we are going to miss the peace and quiet, the sound of the ocean, and the turtle watching."
Elissa and Stuart on their honeymoon.
For all exclusive Honeymoon and romantic getaway enquiries please contact us by email or phone (07 4067 5311 or mobile: 0409 553 611 or international +61 7 4067 5311) for further details.
Be our guest at one of the best honeymoon destinations in Australia.