The Best of Queensland Honeymoon Destinations
You'll feel a million miles away at secluded Bedarra Island near Cairns. Bedarra Island's seclusion, luxury accommodation, year round warmth and unsurpassed beauty is what makes it one of the best honeymoon destinations in Australia.
Exclusively Yours
East Bedarra Island Retreat is one of the most secluded Great Barrier Reef honeymoon destinations in Queensland offering a more private alternative to the Whitsundays honeymoon options to the south.
The beach villa is all yours during your honeymoon and it is right on the inviting waters of the Great Barrier Reef between two secluded palm-fringed coves. You'll feel like castaways in your own private paradise where the only footprints in the sand will be yours. So don't be shy – toss off those shoes (and clothes if you're feeling cheeky) because you're unlikely to see another soul until you return to civilization.
Honeymoon Suite with Private Pool
Your heavenly king-sized bed will have a rose petal greeting upon arrival. In the morning you will awake to magnificent views of the Coral Sea and its islands. Just steps away is your private pool – a tidal rock pool that replenishes with saltwater with every tide. The water is a comfortable temperature for swimming year round. Colourful reef fish and sea turtles are your only neighbours. At night, cocktail in hand, you can relax in the pool beneath a starry sky or enjoy your 3D moonlight cinema.
The Villa
The villa embodies barefoot luxury with marble finishes, an indoor-outdoor flow and sea views from every room. The expansive, partly-sheltered deck includes a gas BBQ, loveseat, dining area, sculptures and deck chairs, and sits right over the Great Barrier Reef. Private concierge is available 24/7.
We provide you with kayaks, snorkeling gear and fishing equipment. Snorkel with the sea turtles right from your deck. Laze on the uninhabited white sandy coves that flank your villa. As you close your eyes and relax to the whisper of coconut palms and the gentle ebb and flow of the sea, you will feel yourselves unwind to island time. After the stress of organizing the wedding, you deserve this.
Take a bottle of champagne to one of the stunning look-out points dotted across Bedarra Island and enjoy a glass as the setting sun paints the sky with colour. Far from any city lights, the night sky is ablaze with stars. Bedarra Island is the perfect place to start your married life together and celebrate your love.
Check our Bedarra Island rates and elopement packages.
Discover the romance and privacy of Bedarra Island before it becomes an Australia honeymoon hotspot.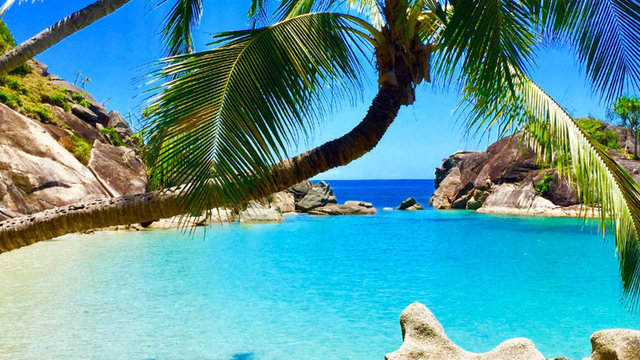 "After two weeks here we are going to miss the peace and quiet, the sound of the ocean, and the turtle watching."
Elissa and Stuart on their honeymoon.
For all exclusive Honeymoon and romantic getaway enquiries please contact us by email or phone (07 4067 5311 or mobile: 0408 903 104 or international +61 7 4067 5311) for further details.
Be our guest at one of the best honeymoon destinations in Australia.
Take it Easy
Most married couples will not need reminding of how much planning is necessary for the big day. Of course, in order to make this special occasion a moment to cherish for eternity, it is essential to ensure to book all associated services from leaders in their particular wedding niche. However, couples that have decided to tie the knot will have more to consider than just an auspicious date and the perfect venue for their wedding. Nonetheless, perfect destinations are not always something that wedding planners can decide on without plenty of debate. One thing is certain though, enjoying a relaxing honeymoon at a secluded beach retreat with our Mr or Mrs Right is what all lovers truly deserve. Anyone that has enjoyed a "hang-loose" honeymoon on the unspoilt eastern side of the Bedarra Island is bound to have lots of wonderful memories of their break.
If the best honeymoon destinations are something that must include a private beach with splendid views of the Great Barrier Reef in tropical North Queensland, then you are in the right place. Fortunately for sweethearts hoping to book luxurious accommodation, our East Bedarra Island "gorgeous home away from home" is the top honeymoon destination to choose from. Of course, city slickers dreaming of getting away from their daily hustle and bustle will be able to unwind on their secluded beach as they breathe in the fresh ocean air and take in the breathtaking views.
Living the Dream
Love-birds who could never imagine being without their partner, love to spend as much time in private with their lover as they possibly can. Please click to visit our Honeymoons web-page if you plan to make your wedding a superb occasion on a perfect, beautifully natural and secluded beach on the east side of tropical Bedarra Island - we are certain you will find everything you dream.

Of course, just what is needed to make the most of a wedding service will often come down to personal preferences. The same can be said for honeymoons, regardless of where you decide to enjoy a romantic break with the love of your life once you have exchanged wedding vows. By taking time look at different honeymoon destinations australia, it will not take long to discover that our tranquil hideaway is what you and your partner have always imagined as being the perfect venue for your honeymoon. Indeed, couples that love to watch romantic movies featuring picturesque landscapes and passion-inducing sun-sets on a deserted island, are likely to choose a honeymoon where they can do the same. In fact, some of the best honeymoon destinations in Australia could be the perfect place to film a movie where a lucky couple are stranded on a tropical island and who finally get together and fall head over heals in love. There are many things that lovers look for when considering options in a venue to enjoy their tropical honeymoon break …
White sand beaches
Swaying palm trees
Warm weather
Water sports
Romantic sunset walks
Setting the Scene
There are any number of positive things that can be said for actually living with your partner before tying the knot. One thing that some married couples will agree with, is that spending time with someone before you marry them allows you to get to know each other properly before making a lifetime commitment. Couples who are familiar with what their partner does and does not like when on holiday should be able to get their honeymoon planning spot on.
Moreover East Bedarra Island Retreat, one of the top honeymoon destinations, provides luxury accommodation overlooking the turquoise waters of the Coral Sea and will offer a friendly and discreet service that helps their customers have an unforgettable honeymoon experience. So if you are looking for that honeymoon destinations QLD to book, head on over to our bookings page. In fact, why not look online for up-to-date and well-researched blogs about our tropical paradise. Even a quick look at the pictures on our web site and social media pages will delightfully reveal the happy fact that our East Bedarra Island Retreat is one of the most romantic honeymoon destinations anywhere in the world!
The friendly staff at East Bedarra Island Retreat will happily stock up your sea-side home with exquisite food and beverage, all couples will need is a little bit of imagination, a smile and some love.
Tropical Paradise
Anyone familiar with the original "Blue Lagoon" movie, which starred Christopher Atkins and Brooke Shields, or even the ensemble comedy "Couples Retreat" will find it hard to forget some of the magnificent scenery on display throughout these fantastic films. If the backdrop to movies set on tropical islands is what gets your blood rushing when thinking about where to have your honeymoon, reading the reviews about our fantastic tropical honeymoon destination should give you some idea of how gorgeous it is here.
When taking the time to read blogs written about island honeymoon destinations, couples are bound to discover a large number of East Bedarra reviews. Indeed, what could be more marvellous than couples who have always dreamed of enjoying a romantic honeymoon on this tropical island, actually getting the chance to play out their fantasy? Fortunately for imaginative lovers, it is not difficult to book one of the most romantic honeymoon destinations in the world. Once settled in to your "home away from home" on East Bedarra, it is delightfully easy to completely lose yourself without having to worry if anyone else is around at the time.
Special Person
Guys who love nothing more than surprising their girlfriend with a special gift or by whisking them away for a long weekend trip in a romantic city are bound to consider planning a surprise when they finally build up the courage to get down on one knee. Fiancés with the goal to take their betrothed on one of the more unique honeymoon destinations should make sure they plan the break well if they want to avoid letting down their loved one.
Bedarra Island is one of the most exclusive and best honeymoon destinations in Australia, and what could make someone feel more special than being taken there for their honeymoon. Treating that special person by booking a honeymoon break on East Bedarra is certainly a fantastic way to kick-off the beginning of the rest of your life together. Indeed, many of the couples who were really impressed with their honeymoon destination on their honeymoon go on to recommend East Bedarra Island Retreat to friends planning their own unique honeymoon trip.
Having Fun
Couples who plan to make their tropical island honeymoon a lot more active than some others might prefer, should check out our Activities webpage for interesting things that can be done during their stay at their chosen honeymoon destinations Australia. There are quite a few things to do and see near the beautiful Island of Bedarra for couples planning to take the occasional excursion to nearby locations.

Some of the more popular of these adventures are:
A Tully River White Water Rafting Tour
Go Coral Sea kayaking
Crocodile and wildlife tours
A Coral Sea cruise
Djiru National Park
Skydiving

It goes without saying that couples who have just got married and are experiencing their first ever holiday together are going to be keen to please their partner during what could be their first taste of a real adventure as a couple. Booking one of the best honeymoon destinations Australia such as the secluded paradise found at East Bedarra Island Retreat could turn out to be the best decision an adventurous couple have made together.
Coral Sea
The Coral Sea lies between the north east coast of Australia is bounded by Papua New Guinea, the Solomon Islands, Vanuatu and New Caledonia, but the most beautiful part of the Coral Sea must be the famous Great Barrier Reef.

Lying within Australian waters, there are over a million square kilometres of the Coral Sea, almost its entirety. The area has been designated as "protected" because of its outstanding natural habitats, the Great Barrier Reef and the huge variety of life encompassed within its beautiful clear waters.

The Coral Sea is also a very deep sea, reaching depths of over 4,000 metres. There are also many scattered outcrops of coral and rock; thousands of cays and inlets; seamounts, pinnacles, over 30 atoll systems with their mix of deep water surrounding the outer edge of the atoll, with shallower and warmer water within the protective coral reef that encircles these most beautiful of ocean features.
The marine diversity of the Coral Sea includes, corals, fish, turtles, many varieties of seabirds, whales and sharks. New species continue to be discovered.

Studies and exploration of the steep slopes surrounding coral islands and atolls has revealed unique and hitherto unknown species of precious corals and glass sponges. These are living fossils secreted away in the deep dark of the Coral Sea.

Our little bit of the Coral Sea here at East Bedarra Island Retreat is calm and peaceful for most of the year and, as you can see from our pictures, is a gorgeous turquoise blue. There are many other islands around, just waiting to be explored and each with their own special charm and beautiful secluded beaches. The rocky shores of the island make beachcombing and rock-pool investigations a delight for both old and young.

Experienced travellers who have spent time on some of the more appealing beach resorts throughout the world are likely to have heard of breathtaking Bedarra Island. Indeed, as far as honeymoon destinations QLD go, there can not be too many other popular places to spend your honeymoon than this idyllic gem in tropical North Queensland. Whether you like to get out on the sea during our vacations, or prefer to sit on the beach with a cold drink, spending time on a totally unspoiled and beautifully natural island with the Coral Sea right outside the bedroom is simply living in your own little piece of paradise. Few romantic honeymoon destinations compare with the sheer natural beauty of Bedarra Island, Australia's most delightful tropical honeymoon destination.

And don't forget, here at our tranquil island honeymoon destination you have your own private beach and a pool washed by the sea each day. East Bedarra Island Retreat is surely one of the most amazing honeymoon destinations and is perfect for allowing couples to truly focus on each other and fall even further in love. How delightful!

So come and join us here in paradise in a truly unique honeymoon destination that will not fail to give you the most incredible memories of peaceful love together in a setting that just could not be more natural and which is stunningly beautiful.