East Bedarra Island Retreat
Romantic Getaway and Honeymoon Destination
Bedarra Island for Secluded Romantic Getaways
Bedarra Island on the Great Barrier Reef is a private island of unsurpassed natural beauty perfect for secluded romantic getaways. East Bedarra Island Retreat is the jewel on that island.
The luxury villa was designed with romance and couples in mind. It sits on the pretty and remote east side of tropical Bedarra Island, right on the waters edge where rainforest meets reef. The Coral Sea is a comfortable swimming temperature year round and, being in the heart of the Great Barrier Reef, is inhabited with colourful reef fish and sea turtles.
East Bedarra Island Retreat is flanked by white sandy coves that are fringed with coconut palms so you can swim from your deck, or lie on the beach and drift off to the sound of the Coral Sea caressing the sand.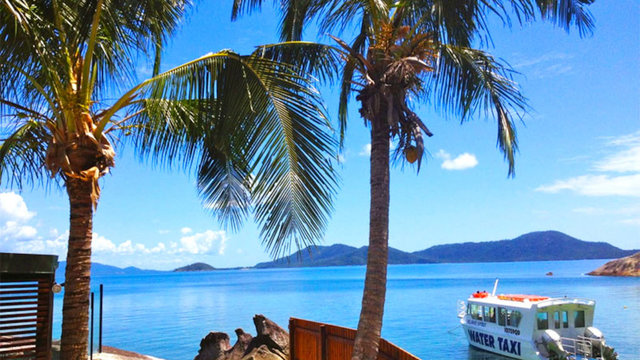 Bedarra Island is Queensland's best kept secret.
Bedarra Island
On Bedarra Island, you will feel a million miles away. There are no cars, no roads and no day-trippers. The limited number of guests will be on the other side of the island where the Bedarra Island resort is located, so you're unlikely to see another soul during your stay at East Bedarra Island Retreat.
The rainforest is pristine, the water crystal clear, the beaches empty, the wildlife prolific. It's a perfect patch of paradise in a world where paradise is becomingly increasingly hard to find. It's this privacy, beauty and seclusion that makes East Bedarra Island Retreat the ideal Australia honeymoon destination and the perfect choice for elopement and those romantic private island getaways, a place to escape when you don't wish to be found.
East Bedarra Island Retreat is the ultimate North Queensland honeymoon destination, private wedding venue, or memorable romantic getaway. Paradise now has an address...


Watch East Bedarra Island Retreat featured in UnReal Estate on Channel 9
Testimonials

Who needs the South Pacific when you have the most amazing beach aspects right on your front step. Read more...
Conserving the natural beauty of Bedarra Island is important to us. For this reason, East Bedarra Island Retreat is sustainable, using solar energy, spring water, and a waste recycling system.
At East Bedarra Island Retreat you have the whole place to yourself. The rock pool, the deck, the sandy coves, the luxury villa – it's all yours. So don't be shy. Toss of those shoes (and clothes if you're feeling cheeky), relax in your rock pool beneath a star studded sky with a cocktail, swim with tropical fish and sea turtles from the sandy cove at your doorstep, and fall asleep on the beach.
Your Winter Escape in Australia
While the northern hemisphere shivers through winter, Bedarra Island is basking in the sun. In fact, the tropical climate of Bedarra Island keeps it warm year round. Even the Coral Sea is a comfortable swimming temperature throughout the year, making it the perfect winter escape.
Paradise does have an address. It's here on Bedarra Island.
Romantic Getaways – a gift you can both enjoy
What a perfect gift to give to the one you love. Romantic Retreats has Gift Vouchers available to any value from as little $250 valid to be used at either Misty Mountains or East Bedarra Island luxury retreats. Vouchers are valid for 6 months from the date of purchase.
Spoil your lover with a romantic getaway to a private Bedarra Island villa or Rainforest Retreat where you can indulge in each other and create memories that will last a lifetime: Gift Vouchers