Testimonials
September 2012 Nola (Cairns)
"A Tropical Island Fantasy" ... Words can hardly describe East Bedarra Island Retreat. From the moment we arrived it was the tropical island fantasy you dream about: stepping off the boat onto the sand of a beautiful little bay, the retreat was right there at the water's edge.

The retreat is tasteful and modern with water views from every room…including the bathroom. We were happy to find that the retreat is eco-friendly accredited and picked up some good tips to take home. For the first day we didn't leave the deck and just lazed on the sunbeds and swinging seat before venturing out to discover the island.

Thanks Sharon for designing a very memorable holiday. It wasn't long enough and we will definitely be back.
---
August 2012 W (Melbourne)
"Wonderful" ... We highly recommend East Bedarra Island Retreat as it is truly lovely but simply recommend that if you plan to stay more than a few days make sure you consider options unless you are content with staying at the Retreat.
---
August 2012 DJL (London)
"Simply sensational" ... The sunsets were out of this world and the stars each night gave us a romantic setting for just the two of us, we really didn't want this honeymoon to end. I loved seeing the turtles pop their heads up, we could see them clearly from the deck throughout the day. I thoroughly recommend getting up for a sunrise paddle ski - Set you alarm!

Thank you for making our honeymoon truly unforgettable - maybe we will be back for our babymoon soon!!
---
July 2012 Nicole
"Absolutely Amazing" pretty much sums it up!

East Bedarra Island Retreat was a truly magical place to stay for the start of our honeymoon late April - early May earlier this year.

Picture perfect weather, fantastic views, very private, and truly relaxing.
---
April 2012 Scott and Jennifer (Mt Isa)
This photo of
East Bedarra Island Retreat
is courtesy of TripAdvisor
East Bedarra Island Retreat – what an amazing, beautiful, romantic place. We stayed here in March 2012 where my now fiancé proposed after a beautiful romantic dinner on the deck.

The retreat is very secluded and has the most stunning water views, we spent most of our time relaxing on the deck, this really is a place to unwind! There is every amenity you could possibly need and the caretakers were most welcoming and made our stay extra special.

We can attest to how much Sharon's professionalism and accommodating nature ensured our engagement was unforgettable. After meeting with Sharon following our stay, we can see just how much love and attention to detail has gone into making this retreat truly memorable.

From initial enquires, bookings, water taxi and to the caretakers, each and every detail is dealt with the utmost professionalism and we cannot recommend East Bedarra Island enough. We cannot wait for our next stay!!
---
April 2012 Simon & Rebecca (Sydney)
It has been amazing experience, one that we will never forget and hope to visit again!! We've walked the island, paddled around it, watched the crabs, feed the crabs, saw the eel, snorkeled, swam, relaxed – what more could you ask for!! We'll miss falling asleep and waking up to the sound of the waves crashing beneath us, pure bliss!! Till next time bye bye!!
---
March 2012 Beau & Elizabeth (Sydney)
We drove up from Sydney and were rained on every day until we finally reached East Bedarra where the clouds disappeared and we were treated to the most perfect weather, water and welcome from Colin & Elaine. Our eight days here have been true paradise and we wish it didn't have to end, we will be taking a little bit of the islands magic home with us. Beau and I have loved our time on the island and we leave feeling very balanced, centered and completely relaxed. We'll remember this as one of our best trips yet and the honeymoon we wish for!
---
February 2012 Brooke & Steven (USA)
We are visiting Australia for our honeymoon and East Bedarra is our first stop. The island is absolutely breath taking and the best way to spend the first days as man & wife. Everything here is perfect, we have reached true tranquility on the island. There is no time here, on the island as if time stands still it's mind boggling how peaceful life can be here. We will definitely be back for another vacation as there is no place this relaxing in the states.
---
21st January 2012 Belle and Tim Collings ( Sydney)
Who needs the South Pacific when you have the most amazing beach aspects right on your front step.
We couldn't have dreamed of a better location for the first half of our honeymoon! Such a spectacular destination and so nice to have the privacy and comfort for the wind down after the big day. The pool was fantastic, Colin and Elaine such wonderful hosts. We can't thank you enough for your kindness, we hope to come back and visit again for our 5th year wedding anniversary. All the best Tim and Belle Collings.
---
Joanne and Peter, Auckland NZ
What a Beautiful 25th wedding anniversary
My husband and I have celebrated in many places around the world and East Bedarra is by far the most private, and the Great Barrier Reef at our door, the freedom to set our own pace to wake up at any time of the day to a beautiful view that we couldn't wait to wake for. The fall asleep to the natural sounds of the ocean. We loved our skinny dip each morning and sunset drinks in the afternoon with our regular visit from the turtles that call this their home, the sunbirds that would play in front of the bungalow made this all part of the natural beauty. Although there are two stunning beaches we preferred to spend a lot of our time in the Natural tidal rock pool. The large decks offered us a lot of outdoor living space, the sun lounges were perfect for us to relax, while my husband didn't move from the hammock . We certainly had time for each other and every day was special, this is what life should be like every day, my advice for anyone is to stay as long as you can and bring more champagne.
---
Tony and Emma, Bunbury, WA
The experience of seeing an Echidna was absolutely amazing we never imagined such a beautiful sight the superb sunrises to the stunning sunsets and all that skinny dipping with champagne (French of course) glass in one hand really set the scene for the most beautiful romantic honeymoon imaginable.

We will be back to celebrate our anniversary, so could you please pencil us in for same time next year.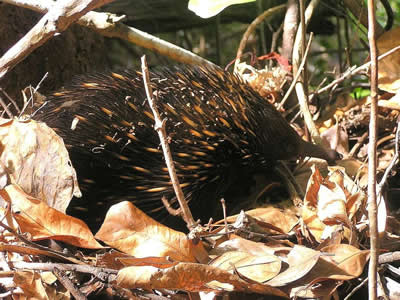 ---
Shawn and Liz Gale
just wanted to drop you a line or two to congratulate you on your efforts to provide a wonderful venue for a holiday.

To be honest I don't know how you can bring yourself to let out the place I would want to live there for ever!

Liz and I had such a wonderful time doing nothing much at all just soaking up the feel of the place. To be honest I think I discovered two things while on Bedarra. Firstly, I found my calling in life, I should have been a beachcomber, and secondly I am now convinced that I am at my best when doing absolutely nothing! Bring on retirement.

All silliness aside I also wanted to let you know what assets Ruth and Steve are. Two more friendly and helpful people would be hard to find. The bungalow was beautifully presented and their welcome and hospitality was flawless. Hang on to them they go a long way to making the Bedarra experience so wonderful.

Thanks again for your efforts.

Maybe one day we can return, who knows what the future holds.
---
Mr & Mrs J. Malhar, Auckland, New Zealand
"In Love, In Heaven at East Bedarra"
We were looking for a romantic island honeymoon we found Bedarra over the internet. We fell in love at first sight although we took a risk at that time of year as we heard it was the wet season.
After a bumpy ride on the water taxi, we arrived at a very calm and and beautiful sandy beach. The hosts were waiting on the beach with a bottle of Moet and took our bags, as we made our way with our glasses of champers to the deck. We were blown away by the spectacular views to the other islands and Australia it was like living in a painting.
The oven was working when we arrived, although I have to say that we loved using the weber-q on the deck, where we cooked our first old fashioned but we generally used the outside showers with those roasted chicken and potatoes overlooking the ocean.Later we lay out on the big deck drank more bubbles and watched the stars. We got up VERY late next morning and went straight into the water. no shower, just lunch, more drinks and romance ;-)
we finally worked out that we were there for 3 days, so we decided to get on the paddle skis and paddle around the island, which took us about 1and a half hours as we stopped along the way to discover some of the most beautiful small beaches and caves and the next day it was time to leave the Island. our only complaint was that 4 days was not long enough and I should have listened to my husband who wanted to stay longer!
We loved the beach hut, it was like having a holiday in one of the pacific island burres, very open and natural and everything worked well. The bathroom was a little small and veryspectacular views...we will never forget our days on Bedarra and will be coming back again for our first anniversary next year.
---
Flatoaus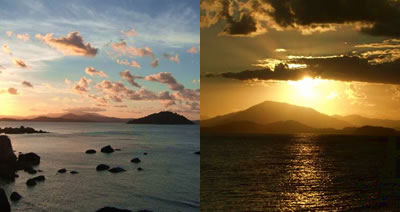 East Bedarra is truly a paradise and was a great place for us to spend our honeymoon. The experience is indescribable and so we will do our best... if you are reading this and thinking about planning a trip to East Bedarra, stop thinking and go ahead and book it.
The experience is amazing from the beautiful sunrises to the fabulous sunsets. You can choose to be active or just choose to relax. The accommodations provide the opportunity to completely unplug from daily life activities and to recharge and relax. From the fresh sea breeze that replaces air conditioning to the sound of the ocean waves crashing along the rocks outside your bedroom window each night, you get to experience nature in a way you never have before. Additionally, the accommodations are run with solar power and you bathe, cook and drink fresh spring water from the island itself.
And this review would not be complete without mentioning the owners and the caretakers of the property. The individuals who run East Bedarra as well as Misty Mountains want to ensure that you have the best experience possible while at these locations and they are there to assist you from the day you inquire about the property through the time you leave. Thank you!
And if you are looking for another great experience, check out the Misty Mountains Nature Resort...
Liked - The opportunity to unwind and unplug in seclusion.
Disliked - Would not change a thing... wish we could have stayed longer...
"Absolutely Paradise"
---
Mr & Mrs Mintus Adelaide, Australia

My husband and I began our honeymoon at the East Bedarra Island Retreat . We had researched (at great length) retreats all over QLD for just this purpose. We were looking for an amazing location, on the water that was totally secluded and relaxed. This absolutely fit the bill. We left Mission Beach by water taxi for a 20 min bumpy ride via Dunk Island. Nathan the taxi driver was fantastic and very knowledgeable about the area. Our wonderful hosts met us as we arrived at the beautiful Dorilla Bay and walked us to the accommodation. We opted to pay for the use of the beach house and the luxury Princess Villa and we are so glad that we did. The Beach House had a very comfortable open feel whilst the Villa was just pure luxury!! We prepared our meals most days in the Beach House and used the outside shower here whilst we sat on the love seat on the deck of the Villa right on the water in the evening whilst sipping champagne. The hardest thing was deciding each day just where to relax...there were 'love seats', hammocks, papasan chairs, and deck chairs placed all over the property with maximum position to take in the breathtaking views. Breakfast each morning was at a breakfast bar that took in 180 degree views of the water and surrounding islands. This is the only absolute waterfront property on the island with its own beach next to it. We spent the days snorkelling straight out the front of the property and saw so many fish! We borrowed the kayaks and explored the abandoned resort over the other side of the island, saw rays and reef sharks and so many crabs on the rocks. Wildlife also included fruit bats, skinks and grasshoppers. There is a natural saltwater swimming pool for use also. The best thing about the place was the views, peace and the ocean - the sound of it that lulls you to sleep and the moonlight straight overhead that shines on the water at night. Everything about this place was heavenly and the owners and hosts ensure that it is a wonderful experience. We really cannot recommend this place enough. We note that previous reviewers were disappointed with the weather. We took the risk of going in November when the rainy season starts in Queensland but were lucky enough to only have 1 day of rain - after the rain, the water was clearer and brought the fish out for even better snorkelling. We would recommend researching your destination and the relevant seasons to ensure that you are not disappointed in future. This place really
Dream honeymoon in a dream location. This is the place you are looking for!
---
Daphne N.

East Bedarra was just magic....it's paradise! We all enjoyed our time there. The boys enjoyed the water but unfortunately it went very quickly. Steve and I extended our stay in Cairns then stayed at Port Douglas for few days before heading home. I will definitely recommend Bedarra to all my friends and colleagues. I thank you so much for giving us the opportunity to experience your beautiful private retreat.
---
Kirra M.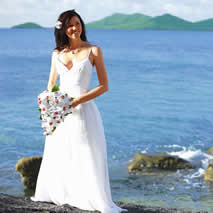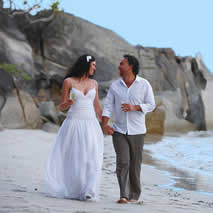 From the moment we stepped onto Bedarra Island we knew our dream day would become a reality... the magical beauty of Bedarra Island took us in the instant we arrived and we continued to enjoy a week of total bliss..
Dorilla Bay, was a picturesque backdrop for our wedding ceremony.. The waves crashing on the shore behind us, and the sun setting over Bedarra Island in the distance made it an unforgettably romantic experience.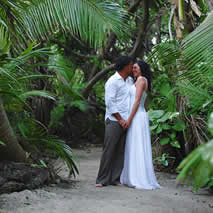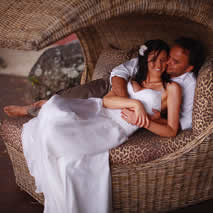 The rainforest on Bedarra Island now holds a special place in our hearts as it brought a unique sense of connection with nature..
Lazy days and star filled nights, we were so relaxed and at peace.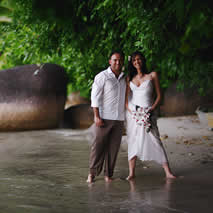 The exquisite excitements our marriage will bring and the next part of our journey we will embark on, shall always carry memories of East Bedarra Island Retreat...
---
Tanya and Gavin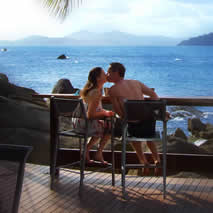 We could not imagine anything else in the world comparing to East Bedarra. It is a magical, romantic place that makes years of stress just fade away. Being able to take your kayaks around your own tropical island is divine, private beaches, beautiful views, stunning rock pool, what more could one ask. It was an amazing time and we would like to thank Sharon, Gene, Ruth and Steve for making our honeymoon wonderful.
We wish we were back there right now!

---
Lou and Glenn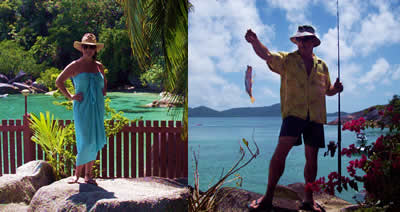 We are back in Melbourne ( brrrrrrrrrrr ) after a most beautiful honeymoon on Bedarra and a visit to the Gold coast.
We just wanted to thank you for opening up your patch of paradise and sharing it with others. We had an amazing time and enjoyed perfect weather. Ruth and Steve were just the sweetest and most helpful hosts we could have asked for. We just adored it and hope to gather a group of friends for another visit at some stage. Island life really agreed with us.
We hope you are well and have attached some photos for you to see how much fun we had.
Thanks again!
---
Jodie & Nathan

We just want to let you know how much we enjoyed our stay on East Bedarra Island. It was everything we had hoped (& a lot more). I don't think either of us have ever been so relaxed in our lives. The weather was devine & I am now sporting a beautiful tan, (with no tan lines!!). We've been home for just over 24 hours and we are missing it terribly, of course the fact that it's only 15 degrees here doesn't help. Ruth & Steve were absolutely lovely & very helpful. Could you please pass on to them for me, that I found copies of the book they lent me about the Family Group of Islands, for sale on Dunk Island in the Boutique, so I've bought one myself! Anyway, we hope to return to your lovely island one day very soon, until then, take care.
---
Karen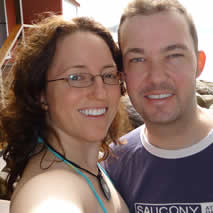 Thank you very much to yourself and Gene for sharing the wonderful piece of Paradise that is East Bedarra. Despite the weather, we had a terrific time and enjoyed the enforced relaxation and the beautiful surroundings. I have attached a photo of us enjoying our first day on the Island.
We loved the fruit bats, geckoes, skinks, the beautiful sea eagle, the sea turtles, the honeyeaters, the Ulysses butterfly, all the other butterflies, the kingfishers and then we were lucky enough to see a cassowary on our way back to Cairns!
So, thank you very much for allowing us to share in your wonderful retreat, and particularly for your generosity in allowing us to stay the additional night. It was a lovely opportunity to get to really know each other again, after the trials of the last few years.
---
Andrew B.

Loved the recent stay at East Bedarra. I thought next time I would hire a dinghy with motor to visit some surrounding islands as well as fish!

---
Louise & Drew
Gold Coast

"note to self: "Next time book a longer holiday at Bedarra, Thank you so much for sharing this little place in Heaven. We had so much fun and will be definitely coming back if you'll have us. A great place for making love, making music and making each other laugh"
A little bit of our song we wrote:
Chorus
These are the days in heaven
A true spiritual place on earth
These are the days in heaven
It's real love, life and worth
The world feels so far away,
Never felt so beautiful, peaceful
It's the love of our lives...
Making love, making music
Making each other laugh
She's my true north,
I'm the light in her eyes...

---

Andre and Eva
United Kingdom

An enchanting location - loved the privacy, butterflies, turtles, manterays,and all of the other natural wonders of FNQ's East Bedarra Island Retreat.
PS Broke 2 champagne glasses but what a memorable honeymoon!

---

Karen and Adam
Anniversary
Melbourne

" In East Bedarra we found a place of serenity, stress relief and peace. We did not watch the time we watched the tides. We did not think about what day it was, we counted how many sunsets we had left. What an incredible sanctuary after an amazing but stressful we will be back someday!
Our sincere thanks for making us feel like movie stars
---
Luke and Kathryn
Perth

What a perfect way to spend the first few days of married life, absolute heaven! Thanks for sharing such a beautiful piece of paradise, we will be back.

---

Geoff and Julie
Tasmania

What a beautiful place to celebrate 15 years of wedded bliss, a momentary glimpse of what heaven will be, time relaxing, enjoying one another and the beautiful Island around us.

---

Liesal and Andrew
Sydney
I just wanted to drop you an email and say "Thanks very much". We loved staying at your place and had a fantastic time, although i proclaim to having put on some weight whilst there. :)
Everything was much better than we thought it would be and so much more private than a big resort.. We wont want to ever go to an island resort again.

---
Nicolette
Santa Monica
We've been back nearly a week now and have settled back into our everyday lives. Looking back at our stay on Bedarra all seems like a fantastic dream - one that we have to remind ourselves was actually truly lived!
Thank you again ever so much for all of your efforts in making it happen. I intend to send your 'thank you token' this week and apologize for the delay. My desk at work was overloaded with work and our sleep patterns have just now returned to California Time. I do hope to remain in touch as I have come to think of you as a far away friend.
Please do keep us in mind if ever in Los Angeles.
I hope you are well!
XO

---

David and Nerida
Sunshine Coast
I told my friends that we were moving to denial so that I could turn 40, with some peace and dignity. This was the best place to be to forget all of life's worries, 6 sun filled days for kayaking, swimming, eating and 4 rainy days to sleep, relax and unwind, a perfect balance.
---
Jody & Paul Y.
We had a fantastic time at Bedarra, Only wish we could have stayed longer -MUCH longer. We have some great memories of a special holiday, Could you please forward our thanks to Sharon also for our stay, & let her know the new webber B.B.Q. worked a treat (we had a lamb roast to break it in after I put it together, which was also fun)
Many thanks again,
"In Love, In Heaven at East Bedarra"